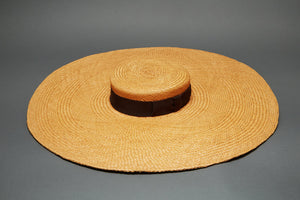 THE SECRETARY
ECUADORIAN PANAMA STRAW HAT WITH A LOW, FLAT CROWN AND OVERSIZED BRIM (APPROX. 7" WIDE). OPTIONAL CHIN STRAP.
RAYON/COTTON GROSGRAIN SWEATBAND & TRIM. Ecuadorian Straw Hat with a low flat crown and oversized brim (approx. 7") 
HANDMADE IN BROOKLYN.
PLEASE ALLOW TWO WEEKS FOR SHIPPING FROM THE DATE OF YOUR ORDER.